Last updated: 24 January 2022
TYPE N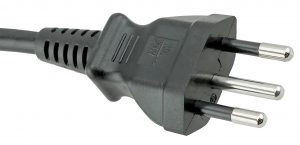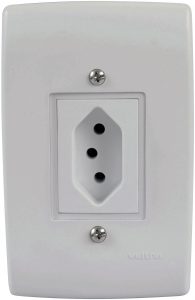 Type N is used exclusively in Brazil and South Africa. (Click here for the full list of all countries with their respective plugs/sockets)
In 2001 and 2013, respectively, Brazil and South Africa standardised on the type N socket and plug system in order to put an end to the proliferation of different socket and plug types within their borders.
The plug consists of two pins and a grounding pin that form a triangle. The power pins have 10 mm long insulated sleeves to prevent accidental contact with a bare connector while the plug is partially inserted. There are three variants, two of which are in use in Brazil (10 A & 20 A) and one in South Africa (16 A). The prongs of all three versions have a length of 19 mm, but their diameters are different: the pins of the 10 amp version have a diameter of 4 mm, those of the 16 amp version have a diameter of 4.5 mm and those of the 20 amp version have a diameter of 4.8 mm. The centres of the line and neutral pins are spaced 19 mm apart. The centre-to-centre distance between the earth pin and the middle of the imaginary line connecting the two power pins is 3 mm. Type N looks very much like the Swiss type J standard, but it is incompatible with it since type N has the earth pin closer to the imaginary line that connects the two power pins (3 mm instead of 5 mm). Type N sockets were specifically designed to accommodate the ubiquitous type C plugs and therefore have the same hexagonal profile.
Type N is actually based on the international standard 230 V household plug system, called IEC 60906-1. In 1986, the International Electrotechnical Commission published this standard, which was intended to become the common standard for the whole of Europe (and, by extension, all other regions with 230 V mains). Unfortunately, the effort to adopt it as a European Union standard was put on hold in the mid-1990s.
Thanks to modern injection moulding technology, which did not exist when most other plug types were originally designed, the very recent type N standard is more compact, robust and safe than any other plug/socket system in the world.
Check out all other plug types used around the world