Last updated: 10 April 2023
What's the deal with those white oval-shaped bumper stickers? Good question!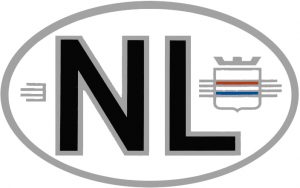 The usage of these white oval decals originated in Europe in the early 20th century. European countries are relatively small and drivers have always frequently crossed from country to country. Moreover, in those days European licence plates all looked confusingly similar, so Europe needed to find an easy way to identify each vehicle's country of registration. They came up with the idea of making it mandatory to put a white oval-shaped sticker with black country initials on the back of all vehicles.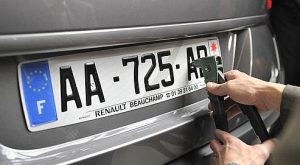 This European custom became an international requirement in many countries after the U.N.'s Geneva Convention on Road Traffic (1949) and Vienna Convention on Road Traffic (1968). It was agreed upon that a distinguishing sign of the country of registration had to be displayed on the rear of the vehicle. It also stipulated that the sign could either be placed separately from the registration plate or could be incorporated into the vehicle's number plate and if the international registration letter was incorporated into the licence plate, it also had to appear on the front number plate.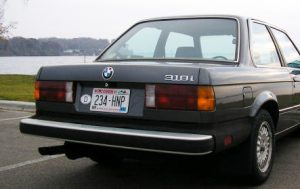 These days, oval stickers with an international circulation mark are not as common anymore in Europe, since standard E.U. number plates have integrated the country code into a blue strip on the left side of the plate. This blue section is actually the flag of Europe (a circle of 12 yellow stars on a blue background), with the country code of the member state underneath it.
Since only two countries border the United States and the vast majority of Americans, Canadians and Mexicans hire a car instead of bringing their own when they go abroad, there was no need for car ovals at all. This explains why these oval-shaped country stickers have never been subject to any kind of regulation by the American Government. At some point in the early 80s, however, it became trendy for Americans to look European: with the yuppie bimmer craze, it was not uncommon to see BMWs with the German "D" oval sticker (Deutschland) driving on American highways (see picture on the left).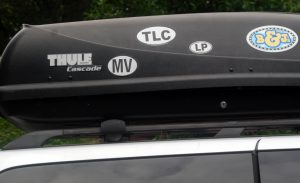 Soon, some Americans started putting all kinds of other stickers on their cars in order to boast about what amazing (European) destinations they had been to. White oval bumper stickers gradually became a fad status symbol, so people started making Euro-looking stickers with abbreviations for places in the States. Common stickers are for instance things like "MV" for Martha's Vineyard, "CA" for California, "ACK" for Nantucket (which is the airport code) and "OBX" for the Outer Banks of North Carolina.
Country-by-country list of international car codes
Below is an extensive listing of all independent countries of the world and their international car codes.
| Country | International vehicle registration code |
| --- | --- |
| Afghanistan | AFG |
| Albania | AL |
| Alderney | GBA (stands for Great Britain Alderney) |
| Algeria | DZ (stands for الجزائر‎ or, in the Latin alphabet, al-Jazā'ir, pronounced as Al Dzayer) |
| Andorra | AND |
| Angola | ANG (unofficial licence plate country code) |
| Anguilla | AXA (unofficial licence plate country code) |
| Antarctica | ARK (unofficial licence plate country code) |
| Antigua and Barbuda | AG (unofficial licence plate country code) |
| Argentina | RA (stands for República Argentina) |
| Armenia | AM |
| Aruba | AUA (unofficial licence plate country code) / ARU (unofficial licence plate country code) |
| Australia | AUS |
| Austria | A |
| Azerbaijan | AZ |
| Bahamas | BS |
| Bahrain | BRN |
| Bangladesh | BD |
| Barbados | BDS |
| Belarus | BY (stands for Byelorussia) |
| Belgium | B |
| Belize | BH (stands for British Honduras, the former name of Belize) / BZ (unofficial licence plate country code) |
| Benin | DY (stands for Dahomey, the former name of Benin) |
| Bhutan | BHT (unofficial licence plate country code) |
| Bolivia | BOL |
| Bosnia and Herzegovina | BIH (stands for Bosna i Hercegovina) |
| Botswana | RB (stands for Republic of Botswana) / BW (unofficial licence plate country code) |
| Brazil | BR |
| British Virgin Islands | BVI |
| Brunei | BRU |
| Bulgaria | BG |
| Burkina Faso | BF |
| Burma (officially Myanmar) | BUR (stands for Burma, the former name of Myanmar) |
| Burundi | RU (stands for Ruanda-Urundi, the former name of Burundi) |
| Cambodia | K (stands for Kampuchea, the former name of Cambodia) |
| Cameroon | CAM |
| Canada | CDN (stands for Canadian Dominion) |
| Cape Verde (in Portuguese: Cabo Verde) | CV (unofficial licence plate country code) |
| Catalonia | CAT (unofficial licence plate country code, E is the official code) |
| Central African Republic | RCA (stands for République Centrafricaine) |
| Chad | TCH (stands for Tchad) / TD (stands for Tchad, unofficial licence plate country code) |
| Chile | RCH (stands for República de Chile) |
| Colombia | CO |
| Comoros | COM (unofficial licence plate country code) |
| Corps Diplomatique (Diplomatic Corps) | CD (not a country code, but used alongside a country code sticker by (foreign) diplomats) |
| Costa Rica | CR |
| Côte d'Ivoire (Ivory Coast) | CI |
| Croatia | HR (stands for Hrvatska) |
| Cuba | C |
| Cyprus | CY |
| Czechia (Czech Republic) | CZ |
| Democratic People's Republic of Korea | KP (unofficial licence plate country code) |
| Democratic Republic of the Congo (Congo-Kinshasa) | ZRE (stands for Zaïre, the former name of the Democratic Republic of the Congo) |
| Denmark | DK |
| Djibouti | DJI (unofficial licence plate country code) |
| Dominica | WD (stands for Windward Islands Dominica) |
| Dominican Republic | DOM |
| East Timor (Timor-Leste) | TL (stands for Timor-Leste, unofficial licence plate country code) |
| Ecuador | EC |
| Egypt | ET |
| El Salvador | ES |
| England | ENG (unofficial licence plate country code, UK is the official code) |
| Equatorial Guinea | GQ (unofficial licence plate country code) |
| Eritrea | ER |
| Estonia | EST |
| Ethiopia | ETH |
| Faeroe Islands | FO / FØ (stands for Føroyar, unofficial licence plate country code) |
| Fiji | FJI |
| Finland | FIN |
| Flanders | VL (stands for Vlaanderen, unofficial licence plate country code, B is the official code) |
| France | F |
| Gabon | G |
| Gambia | WAG (stands for West Africa Gambia) |
| Georgia | GE |
| Germany | D (stands for Deutschland) |
| Ghana | GH |
| Gibraltar | GBZ (stands for Great Britain Gibraltar, Z was assigned because G was already used for Guernsey) |
| Greece | GR |
| Greenland | KN (stands for Kalaallit Nunaat, unofficial licence plate country code) |
| Grenada | WG (stands for Windward Islands Grenada) |
| Guatemala | GCA (stands for Guatemala, Central America) |
| Guernsey | GBG (stands for Great Britain Guernsey) |
| Guinea | RG (stands for République de Guinée) |
| Guinea-Bissau | RGB (stands for República da Guiné-Bissau, unofficial licence plate country code) / GW (unofficial licence plate country code) |
| Guyana | GUY |
| Haiti | RH (stands for République d'Haïti) |
| Honduras | HN (unofficial licence plate country code) |
| Hong Kong | HK (unofficial licence plate country code) |
| Hungary | H |
| Iceland | IS (stands for Ísland) |
| India | IND |
| Indonesia | RI (stands for Republik Indonesia) |
| Iran | IR |
| Iraq | IRQ |
| Ireland | IRL |
| Isle of Man | GBM (stands for Great Britain Isle of Man) |
| Israel | IL |
| Italy | I |
| Ivory Coast (Côte d'Ivoire) | CI (stands for Côte d'Ivoire) |
| Jamaica | JA |
| Japan | J |
| Jersey | GBJ (stands for Great Britain Jersey) |
| Jordan | HKJ (stands for Hashemite Kingdom of Jordan) |
| Kazakhstan | KZ |
| Kenya | EAK (stands for East Africa Kenya) |
| Kiribati | KIR (unofficial licence plate country code) |
| Kosovo | RKS (stands for Republika e Kosovës, unofficial licence plate country code) |
| Kuwait | KWT |
| Kyrgyzstan | KS |
| Laos | LAO |
| Latvia | LV |
| Lebanon | RL (stands for République Libanaise) |
| Lesotho | LS |
| Liberia | LB |
| Libya | LAR (stands for Libyan Arab Republic) |
| Liechtenstein | FL (stands for Fürstentum Liechtenstein) |
| Lithuania | LT |
| Luxembourg | L |
| Macau | MO (unofficial licence plate country code) |
| Macedonia, North | MK (stands for Македонија or, in the Latin alphabet, Makedonija) |
| Madagascar | RM (stands for République de Madagascar) |
| Malawi | MW |
| Malaysia | MAL |
| Maldives | MV (unofficial licence plate country code) |
| Mali | RMM (stands for République du Mali) |
| Malta | M |
| Marshall Islands | MH (unofficial licence plate country code) |
| Mauritania | RIM (stands for République islamique de Mauritanie) |
| Mauritius | MS |
| Mexico | MEX |
| Micronesia (officially: Federated States of Micronesia) | FSM (unofficial licence plate country code) |
| Moldova | MD |
| Monaco | MC |
| Mongolia | MGL |
| Montenegro | MNE |
| Morocco | MA (stands for Maroc) |
| Mozambique | MOC (stands for Moçambique) |
| Myanmar (formerly Burma) | BUR (stands for Burma, the former name of Myanmar) |
| Namibia | NAM |
| Nauru | NAU |
| Nepal | NEP |
| Netherlands | NL |
| Netherlands Antilles | NA |
| New Caledonia | NC (unofficial licence plate country code) |
| New Zealand | NZ |
| Nicaragua | NIC |
| Niger | RN (stands for République du Niger) |
| Nigeria | WAN (stands for West Africa Nigeria) |
| Northern Ireland | NI (unofficial licence plate country code, UK is the official code) |
| North Macedonia | MK (stands for Македонија or, in the Latin alphabet, Makedonija) |
| Norway | N |
| Oman | OM (unofficial licence plate country code) |
| Pakistan | PK |
| Palau | PAL (unofficial licence plate country code) |
| Palestine | PS (unofficial licence plate country code) |
| Panama | PA |
| Papua New Guinea | PNG |
| Paraguay | PY |
| People's Republic of China | CN (unofficial licence plate country code) |
| Peru | PE |
| Philippines | RP (stands for Republic of the Philippines) |
| Poland | PL |
| Portugal | P |
| Puerto Rico | PR (unofficial licence plate country code) |
| Qatar | Q |
| Republic of Korea | ROK |
| Republic of the Congo (Congo-Brazzaville) | RCB (stands for République du Congo-Brazzaville) |
| Romania | RO |
| Russia | RUS |
| Rwanda | RWA |
| Saint Kitts and Nevis | KAN (unofficial licence plate country code) |
| Saint Lucia | WL (stands for Windward Islands Saint Lucia) |
| Saint Vincent and the Grenadines | WV (stands for Windward Islands Saint Vincent) |
| Samoa | WS (stands for Western Samoa, the former name of Samoa) |
| San Marino | RSM (stands for Repubblica di San Marino) |
| Saudi Arabia | KSA (stands for Kingdom of Saudi Arabia) |
| Scotland | SCO (unofficial licence plate country code, UK is the official code) |
| Senegal | SN |
| Serbia | SRB |
| Seychelles | SY |
| Sierra Leone | WAL (stands for West Africa Sierra Leone) / SLE (unofficial licence plate country code) |
| Singapore | SGP |
| Slovakia | SK |
| Slovenia | SLO |
| Solomon Islands | SOL (unofficial licence plate country code) |
| Somalia | SO |
| South Africa | ZA (stands for Zuid-Afrika) |
| Spain | E (stands for España) |
| Sri Lanka | CL (stands for Ceylon, the former name of Sri Lanka) |
| Sudan | SUD |
| Suriname (Surinam) | SME |
| Swaziland | SD |
| Sweden | S |
| Switzerland | CH (stands for Confœderatio Helvetica) |
| Syria | SYR |
| São Tomé and Príncipe | STP (unofficial licence plate country code) |
| Taiwan | RC (stands for Republic of China) |
| Tajikistan | TJ |
| Tanzania | EAT (stands for East Africa Tanzania) |
| Thailand | T |
| Timor-Leste (East Timor) | TL (unofficial licence plate country code) |
| Togo | TG |
| Tonga | TO (unofficial licence plate country code) |
| Transnistria | PMR (stands for Pridnestrovian Moldavian Republic, unofficial licence plate country code, MD is the official code) |
| Trinidad and Tobago | TT |
| Tunisia | TN |
| Turkey | TR |
| Turkmenistan | TM |
| Tuvalu | TUV (unofficial licence plate country code) |
| Uganda | EAU (stands for East Africa Uganda) |
| Ukraine | UA |
| United Arab Emirates (UAE) | UAE |
| United Kingdom (UK) | UK (stands for United Kingdom of Great Britain and Northern Ireland; before October 2021 'GB' was used) |
| United States (USA) | USA |
| Uruguay | UY |
| Uzbekistan | UZ |
| Vanuatu | VU (unofficial licence plate country code) |
| Vatican City | V |
| Venezuela | YV |
| Vietnam | VN |
| Wales | CYM (stands for Cymru, unofficial licence plate country code, UK is the official code) / CYMRU (unofficial licence plate country code, UK is the official code) / WALES (unofficial licence plate country code, UK is the official code) |
| Western Sahara | WSA (unofficial licence plate country code) |
| Yemen | YAR (stands for Yemen Arab Republic) |
| Zambia | Z |
| Zanzibar | EAZ (stands for East Africa Zanzibar) |
| Zimbabwe | ZW |